Bespoke shoemakers since 1857
James Taylor & Son is a leading British bespoke shoemaker, established in 1857. We make a wide range of fully bespoke footwear, ranging from fashionable shoes and boots, through to complex orthopaedic footwear for all types of foot conditions.
We are a long established business that is absolutely dedicated to the design and making of beautiful, classic shoes that are incredibly comfortable to wear. Our staff are some of the most experienced and talented in the industry and we use the best materials that money can buy.
All our shoes are made in our own workshops and we are one of a handful of traditional West End shoemakers. We are also the leading users of technology in the UK and we use the world's most advanced 3D foot scanning and CAD/CAM system.  So we can be relied on to design shoes and orthotics that perfectly fit your feet.
."I have used various bespoke shoemakers over the years and no one has been as helpful as these guys, they're absolutely fantastic."
"Just collected my bespoke ankle boots. Despite my difficult feet I think they are beautiful and they fit perfectly."
"Made me a pair of bespoke Oxfords. Perfect fit for my large feet which means no more pain for my toes"
"The shape is perfect, the fit is perfect and they look excellent and stylish and are the perfect example of what I wanted."
A Unique History
Our history begins when, in 1857, a skilled shoemaker by the name of James Taylor left his native Norfolk to take his skills to London and a fashionable Great Portland Street address.   The firm's very early history is largely unknown but the firm became established as a maker for the rich and famous, and was eventually inherited by his son, and then his two grandsons.
During its first 50 years James Taylor & Son became one of the most important bespoke shoemakers in London.  It was part of a small group known as the "Four Firms" and this group dominated the bespoke shoemaking world in the 19th and early 20th century.  Two of them were makers to the Royal Family (Hook Knowles & Co and Joseph Box) and the other was a famous bootmaker called Charles Moykopf.
Pumps by Hook Knowles & Co circa 1920
A 1907 original invoice from Hook Knowles & Co to one of its clients
Silk pumps by Charles Moykopf circa 1890
A John Lobb label showing the names of the three of the Four Firms it had acquired by the 1950s
The Four Firms worked as a cartel (perfectly legal in those days) and, alongside a group of small bespoke shoemakers (the West End Master Bootmakers Association), set prices and wages for the whole industry.
The Four Firms, together with the 140 or so smaller firms in the West End Master Bookmakers Association, worked and co-operated throughout the great changes and crises of the 20th Century.  These included the rise of competition from the new ready-made footwear factories in Northampton and the collapse of prices during the Great Depression.  An archive of original documents held by James Taylor & Son records the many challenges that they faced.
By the 1940's the total number of bespoke shoemakers in London had fallen to just over 30 and the Four Firms had joined with the West End Master Bootmakers Association to form a single group.  There are now only 4 members of the West End Master Bootmakers Association left, including James Taylor & Son.
Of the original Four Firms that led the industry in the 19th and early 20th century, three of them (Hook Knowles and Co, Joseph Box, and Charles Moykopf) were taken over by John Lobb of St James St in the 1950's.
James Taylor & Son, uniquely, has survived and ultimately prospered throughout all the changes over the last 150 years.  We are the only one of the Four Firms to continue as an independent bespoke shoemaker to the present day.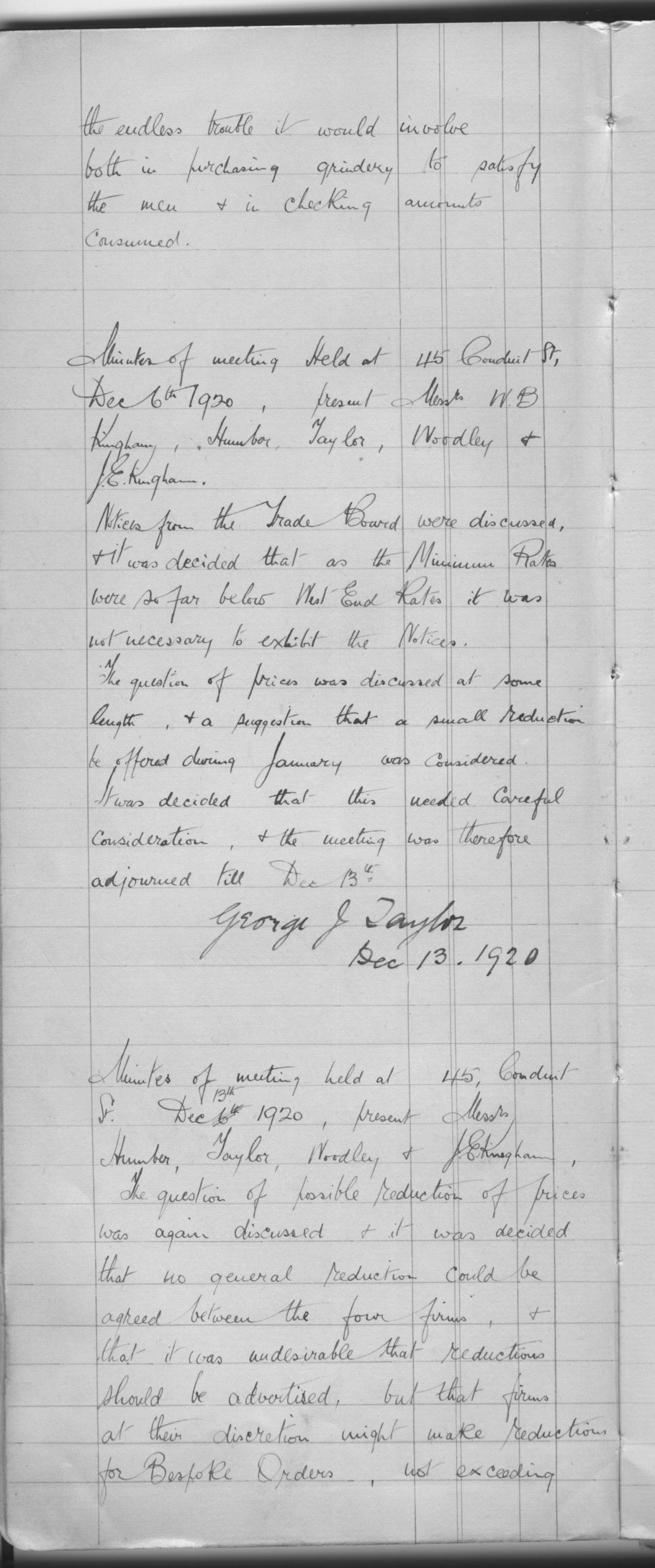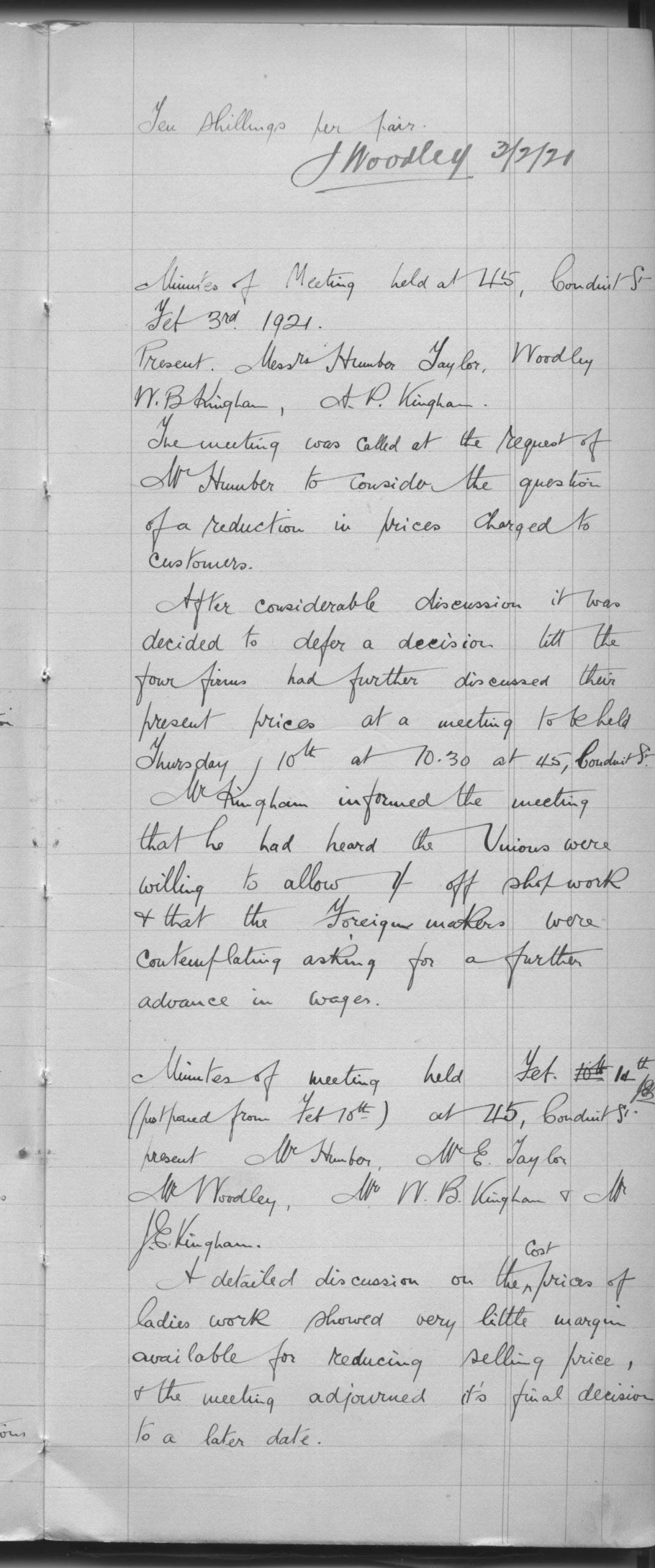 Samples of the minutes of a meeting of the Four Firms in 1920, recorded by George Taylor of James Taylor & Son, and deciding on the prices for bespoke shoes in London.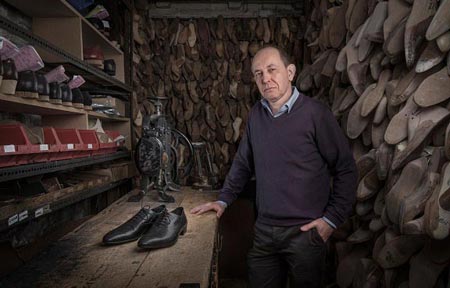 Steve Robinson, Managing Director
Our People
Our team at James Taylor & Son are all specialists in the field of shoemaking.  Their individual skills include all the key shoemaking functions such as last making, pattern design, clicking, closing hand-lasting and soling.  Each member of our team has multiple skills but specialises in particular parts of the shoemaking process, so we can design any style of shoe or boot and make them to the highest standard of finish.
For our medical work, our team includes formally trained and experienced orthopaedic shoemakers.  Their knowledge of last and pattern design ensures that the design and construction of our custom orthotics and orthopaedic shoes meets the correct therapeutic standard for your needs.