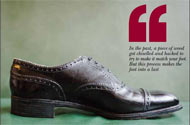 The Marylebone Journal has just published a fascinating profile of our firm.
It has been written by a leading journalist and it describes the background and history of one of the last West End bespoke shoemakers. It also explains the changes we are making within the company to combine our traditional values and craftsmanship with the latest scanning and CAD technology.
It is well worth a read, and should re-assure you that James Taylor & Son is moving confidently into the 21st century, without sacrificing any of the skills and values that have made us such a success over the last 150 years.