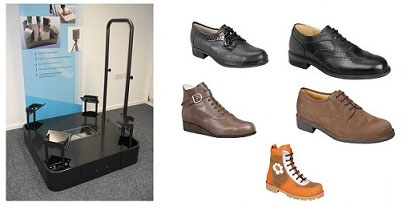 James Taylor & Son are launching a unique mobile foot scanning service for podiatry clinics around the UK. Patients will be able to have their feet scanned in 3D, select a shoe model from our extensive catalogue and have a pair of high quality, well-fitting orthopaedic shoes made to measure within 6-8 weeks.
James Taylor & Son is a long established specialist shoemaker and we have been using world leading 3D scanning and CAD technology for three years.  The new technology, combined with our orthopaedic shoemaking expertise, enables us to create accurate lasts that deliver an excellent combination of fit and style.  
Our orthopaedic shoes are made to ISO 9001 standards, and are far ahead of anything available on the NHS in terms of both fit and style.
Our mobile 3D foot scanner can be set up in 10 minutes in the smallest of spaces.  It performs in exactly the same way as our London-based scanner (5 second per foot scan time, 0.5 mm accuracy) so we can offer exactly the same level of service.
All our shoes are supplied with at least one test fit prior to making.   Customers also have the option of choosing our West End bespoke shoes and boots for more formal, classic designs.
To find out more please email us or call 0207 935 4149 and ask for Steve Robinson.