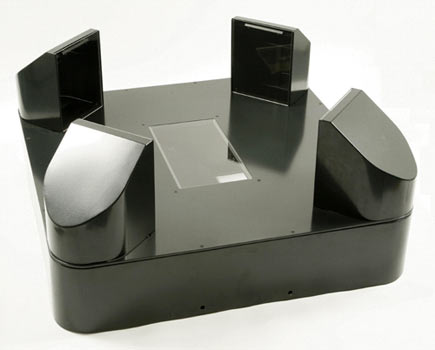 We have now installed the world's leading 3D foot scanning system in our shop at 4 Paddington Street, together with the most advanced CAD/CAM software for shoe last design.
The FotoScan 3D foot scanner is a fantastic piece of British technology that allows us to capture a full colour 3D image of your feet. The scanning process is very quick and comfortable, and it gives us digital casts of your feet that are accurate to within a fraction of a milimetre.
We have also invested in the world's most powerful CAD/CAM system for shoe lasts. This allows us to design your bespoke shoe lasts on computer, combining the precise 3D images from the foot scanner with your design and fit requirements.
These two changes have revolutionised our last making capabilities, enabling us to make shoes that combine perfect fit with a design that is elegant and stylish. Of course, all the other aspects of our traditional shoemaking process remain exactly the same – from the bespoke beech lasts that are unique to you, to the handcrafted leather cutting, stitching and making.